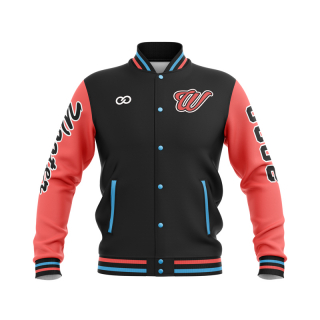 Product Description
Elevate Team Style and Functionality with Custom Team Bomber Jackets
Introducing our Custom Team Bomber Jackets: a fusion of style and functionality that redefines your team's outerwear. Designed to encapsulate both individuality and unity, these jackets are the epitome of modern fashion and performance.
Experience the Ultimate:
Craftsmanship in Every Stitch: Our sublimated custom team bomber jackets are meticulously crafted from durable polyester material, offering exceptional warmth and protection during outdoor games and practices.
Vivid Graphics: The sublimation printing process ensures striking, full-color graphics that turn heads and create a distinctive look for your team.
Engineered for Comfort: The bomber jacket design boasts a ribbed collar, cuffs, and hem, providing a secure and comfortable fit that complements your movements.
Function Meets Style: A zippered front and internal pockets offer easy storage for essentials, combining practicality with fashion-forward design.
Versatility Redefined: Available in a range of sizes, these bomber jackets serve as versatile team gifts, spirited attire, or everyday wear for both fans and players.
Unleash Your Creativity:
Custom Design Freedom: Enjoy the artistic freedom of a free custom bomber jacket design, tailoring each jacket to your team's distinct identity.
Luxe Interlock Fabric: Experience unparalleled comfort with our 270gsm interlock 100% polyester fabric, embracing both softness and durability.
Button or Zipper Options: Choose between buttons or zippers, enhancing your jacket's unique appeal.
Limitless Expression: Infuse your jackets with limitless colors, design possibilities, mascots, logos, letters, and personalized nicknames.
Performance Meets Ease:
Unisex Fit: Designed for all, our unisex fit accommodates everyone on your team.
Cozy Fleece Lining: Enjoy warmth and comfort with a cozy fleece lining that envelops you in luxury.
Machine Washable: Convenience meets durability – these jackets can effortlessly endure machine wash cycles.
Timely Delivery: Expect your customized jackets within 3-4 weeks, ensuring you're prepared for any event.
Elevate your team's fashion and function with Custom Team Bomber Jackets from Wooter Apparel. Embrace personalized style that speaks volumes.
Custom Team Bomber Jackets
AP1015PY
Minimum Quantity: 1 Piece ($80.99 / Item)
Price Breakdown
Estimated Delivery
Rush Production:  
Oct 13 - 20
•
Standard Production:  
Oct 20 - 27
Available Sizes
Youth
(YXS - YXL)
•
Women's
(WXS - W5XL)
•
Men's
(MXS - M5XL)
Get an Instant Quote
Fill out this form and we'll get back to you right away. (Usually within 10 minutes)
Design Examples From Past Customers